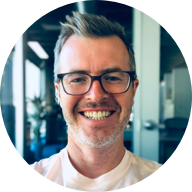 Bryan uses Helio's custom audiences to quickly collect observations for the
DesignFail series

.
To get answers, Bryan creates a test with 2-5 questions. With no limit to how many questions, or how many people, he can ask, Helio gives Bryan the freedom to explore.
DevOps
Professionals
"The business is very customer-focused, and customers are always continuously changing their minds or adjusting their requirements."
Behaviors
Manages Cloud Servers
Works in DevOps
Has Business Degree
Question sent to 100 DevOps Professionals
Who is the most difficult person to deal with to get your job done?
Registered
American Voters
"We live in a democracy. Every vote counts toward electing the government that we believe in."
Behaviors
Lives in the United States
Registered to vote
Registered to a Party
Question sent to 100 Registered American Voters
I feel my vote makes a difference in the political process.
American
Married Couples
"(1-5) I like variety and use different scents for daytime or bedtime."
Behaviors
Is Married
Is in a Romantic Relationship
Lives in United States
Question sent to 100 American Married Users
How many soap bottles are currently in your shower?
You don't need to be a smartypants to get answers — Bryan isn't.
Helio is an intuitive tool that gives you the freedom and the focus to put amazing work in front of your team.
Likert

Share ideas with your customers and ask them to relate to the experience of your site, product, or service.

Continue

Numerical Scale

Evaluate how your users feel about a specific element, idea, or item.

Continue

Click

Determine how your users interact with early concept designs or production ready screens.

Continue

Preference Test

Collect gut reactions from your customers on core visual elements or products.

Multiple Choice

Surface products or services that are most important to your users.

Continue

Free-response

Discover how your customers think about a topic or situation before you make assumptions.

Continue
Start finding answers to your hunches, no matter where you are in the process.
It doesn't matter if you only have sketches or final app views, Helio will accommodate assets throughout the creative process.
Sketch

Share simple sketch ideas to see how well your audience understands

Wireframes

Evaluate layouts, directives, vocabulary and interfaces

Moodboards

Collect gut reactions on visuals to see how your audience feels about brand imagery

Production

Test product-ready interface screens to finalize the solution

Video

Test video ads, instructional videos, or complex interactions

Images

Test screenshots, ads, social posts, interface concepts or products

Audio

Test music, podcasts, voice UI, radio ads or sales pitches

Text

Test headlines, vocabulary, scenarios, or interface content

Mobile

Serve your mobile web pages and native applications to a mobile-only audience

Desktop

Get feedback on e-commerce web pages and desktop applications

Tablet

Display tablet apps and web pages optimized for a tablet
You can gather signals to paint a better picture, like this team did.
Creative problems require us to choose a direction, with no singular 'north-star' pointing the way. Here is how a bank used Helio to search for a constellation of signals to point the way toward refining their app's features.
Conclusion: A great app will take into account that people are living paycheck to paycheck, pay their utilities, and don't have the resources to focus on the future. Building a great app experience for that mindset will increase customer retention.
Starting conversations with audiences is how Bryan gets answers.
Engaging with real people is something we've used to help businesses make impactful changes time and again. Using Helio, side by side with creative exploration, creates opportunities for amazing business outcomes.
Take the first step and start testing with real people!